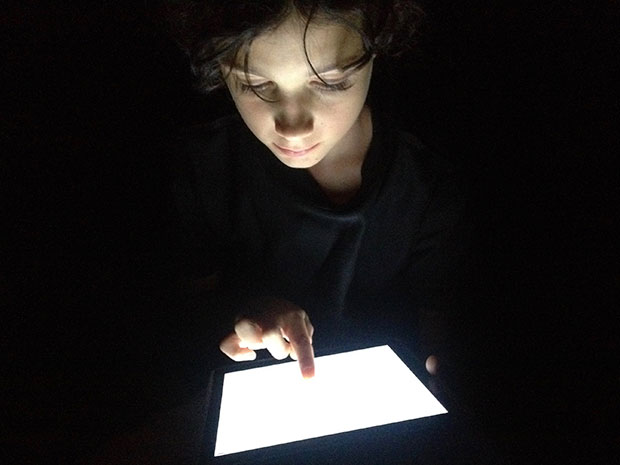 Some people through social media efficiently articulate their relationship with the events of the real. They create autonomous visions and positions, have the ability to distribute their interventions, their presence and their thinking to the tune of the quality of reception of their own community. This rhythm generates reactions, shared thinking, consensus or disapproval, in any case the opening and development of the discourse about the present time.
In Your Face draws from their Facebook profiles, using the social media language to rewrite the play Trovarsi by Pirandello. It manifests itself in a theatrical and musical flow that proposes a new point of view to observe the relationship between the self and its representation.
To challenge the interface of the Facebook page, the scene develops by sowing clues for the imagination in the empty space. The threshold dividing the performance from the audience area,  disappears to accommodate the irruptions of the real.
Atelier's work is oriented towards those actions that are carried out privately as individual acts but which have the strength to expand publicly. Following the similarities between dispersion of pirandellian personality and building of personal profiles on Facebook, In Your Face interrogates the recognition mechanisms by dragging the spectator into the ambiguity between serendipity and homophilia: in the area between the discovery of the unexpected and the reflection of oneself that characterizes life in social media.
credits
by and with: Fiorenza Menni and Andrea Mochi Sismondi
music composed and performed by: Vittoria Burattini, Vincenzo Scorza and Mauro Sommavilla
sound: Vincenzo Scorza
technical direction: Giovanni Brunetto
thanks to Laura Gemini and Giovanni Boccia Artieri
special thanks to Anna Stefi, Alberto Bario, Vincenzo Branà, Eugenia Delbue and the family Arcomano
communication and distribution: Tihana Maravic
organisation and administration: Elisa Marchese
production: Ateliersi 2017
with the support by: MiBACT, Regione Emilia Romagna and Comune di Bologna
on stage
29-30.09. Atelier Sì, Bologna
12.10.2017 Teatri di Vetro, Roma
press release