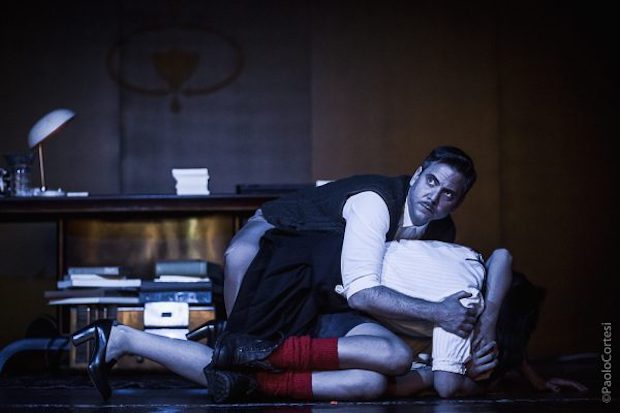 [gæp] WHAT IS A GAP?
A playful talk on Liberation
In [gæp] What is a GAP?, a modern-day thirteen-year-old learns to relate to the visions, thoughts and actions of Pin, the mischievous protagonist of The Path to the Nest of Spiders – Italo Calvino's first novel, set during the days of the Resistance movement, among the Ligurian mountains' Partisans.
The way the show develops stems from Calvino's anti-rethoric insight. The novelist wanted to tell about the Resistance avoiding both the hagiographical interpretation of that period – which describes the Resistance as having been led only by people that were inspired by a clear, programmatic political vision – and the disparaging interpretation of those days, which was already taking hold in the early postwar period. In [gæp] What is a G.A.P.?, the novel's material is processed in a way that allows a dialogue with the young protagonist, who finds himself getting involved in first person by carrying an actual «literary game» with the spectators.
The boy manages to propose the audience a group game revolving around The Path to the Nest of Spiders, which involves his mother and his father as well. In this game one wins by grasping missing lines and hidden meanings. The work starts from the playful dimension – one that a thirteen-year-old knows well and in which he can feel at ease – in order to focus on the very aspects that are able to resonate with the boy's imagination, with his thoughts, and with the first questions that emerge, during the teenage years, on what it means to be in the world and how to position oneself in relation to the actions and language of the adults.
Oscillating between mysterious words and restless souls, the show starts from young Pin's gaze in order to get to the audience by means of the elementary push that leads every human being to fight in order not to be humiliated any longer, walking the path of revolt in order to give birth to autonomous images and thoughts that each spectator puts together in their own secret space: i.e., in that part of ourselves which holds the «secret wound we fight to redeem».
The show stems from an invitation made to Ateliersi by Elena di Gioia, who suggested to enhance the research on Resistance in connection with the dialogue between generations.
Credits
By and with: Fiorenza Menni e Andrea Mochi Sismondi
And with: Eugenia Delbue e Marco Mochi Sismondi
Music by: Hazina Francia e Vincenzo Scorza
Sound project by: Vincenzo Scorza
Graphic design: Diego Segatto
Communication and promotion: Federica Patti
Organisation and administration: Elisa Marchese
Produced by: Ateliersi per Agorà
Supported by: MiBAC, Regione Emilia-Romagna e Comune di Bologna
Under the patronage of: ANPI di Castel Maggiore
Thanks to the collaboration with: Freak Andò – Antiquariato Modernariato Design, Biblioteca Italiana delle Donne, APS Libertà era Restare e Modo Infoshop.