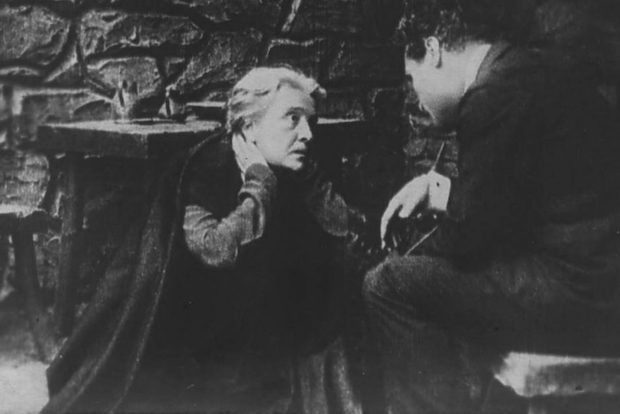 ASHES / FILM CONCERT
Director: Febo Mari
Actors: Eleonora Duse, Febo Mari
Producer: Ambrosio, 1916
Restoration by Cineteca del Friuli in collaboration with Cineteca Sarda di Cagliari from a nitrate print from the George Eastman House in Rochester. 808 m.
Length: 44′
Accompaniment: Luca Maria Baldini
Voice: Fiorenza Menni
Director: Cosimo Terlizzi
In collaboration with Asolo Musica
With the support of Ateliersi
A young woman conceives a son with a married man. Because of this she gets kicked out of her house. After having spent seven years with little Anania, being poor, disgraced, and distressed at the thought of not being able to give a decent life to her son, she abandons him in front of the paternal house. When he becomes an adult, he will track his mother down. This event will lead him to lose his bride-to-be, since she will refuse to accept the presence of a disgraced and socially unpresentable mother-in-law.
The excerpts from the reviews and articles that were published when the movie was released, as well as the correspondence between Eleonora Duse and her daughter, become the voice of the silent film. This voice, surrounded by the live accompaniment, highlights the actress's full strength and grants a new, surprising meaning to one of the most controversial movie in the history of silent movies.
"We don't have any recording of her shows, and so no recording of her voice, but, with Cenere, la Divina did left a «living» trace in history. She worked on the picture as if she was facing a «beast» that she had to tame. She was worried about the camera and its eye/lens that was maybe too objective. But the expectations for her entrance in the cinema were not realised. The film flopped". Cosimo Terlizzi (director)
"Going through the theoretical development and the emotional sequence of events whereof Eleonora Duse was protagonist, both before and after Cenere was released, is an adventure that I shared with Cosimo and Luca, and it is taking me towards complex and attractive new territories. I take great relish in giving a voice to these words, over images that need to shake and then to burn; I fly together with Luca's sounds and I feel that we are reaching a rhythm that was missing, we are building new layers of meaning in dialogue with the precise, fascinating intuitions of the past. We have created a space that allows the emotion to be based not on history but on Eleonora Duse's powerful life – which emerges from these images -, on her artistic life. In these images one feels like they can understand all of her intentions, all the things she refers to, in an atmosphere of complete plausibility that is created by her emotional precision. I love giving a voice to a silent movie. The words should always come up later: after the landscape in which one has found support, after the perception of the body, after thoughts. Among the series of gestures, talking comes last: just like «a last resort». Words should come up at the end, when nothing else has been left out. In the movie, Elenora Duse used her body as a prime place for «giving»: this was the word she used to refer to what people call, in general terms – and in a very imprecise way – « acting ». I think that the reason why Eleonora Duse is interesting in such a special way, the reason why she is so powerful, is precisely the way she always maintains a dialogue between her thoughts and her emotions. Her thoughts being of the highest quality, and her emotions both free and conscious". (Fiorenza Menni (voice)
"I start from creating the sound of the film, and then I destroy it and transform it. The various dimensional levels of sounds come together, the parts are reversed: thus the music becomes the sound of the film and ambient sound becomes barrier-free music". Luca Maria Baldini (accompaniment)