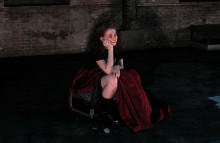 ph: Matilde Soligno
Civile collects and connects forays of young citizens who have chosen to become actors.
Civile spreads monologues, presentations, shreds, assaults and theatre performances made of the same material of the actors interpreting them.
The actor's condition is a stunning and controversial phenomenon.
Artists have always kept the pace of change and followed the highly imaginative evolution of their times which they should forerun, intepret and reflect.
Prospective actors are contemporary artists by nature, therefore observing their actions is one of the most important ways to reflect about our society's cultural evolution.
In fact, choosing to become an actor is a conscious life project.
Civile suggests a new way to establish a relationship with the public, assuming that each actor may play the role of himself, a social animal making a hard choice. Such choice implies making various steps and living narratively fascinating situations.
Thanks to Civile, a group of young people who have chosen to be actors in contemporary society, reveal what springs pushed them to follow that direction; moreover, they display the strongly imaginative horizons they created around their activity and show the daily routine underpinning their choice.
Civile is a stance arising from the need to reflect with other people about the serious and violent cultural involutions of some contemporary trends.
Words, images and voices of Civile on: www.civile-net.org
credits
concept and composition:

Fiorenza Menni
project and planning:
Elena Di Gioia
organization and communication:
Tihana Maravic
administration:
Elisa Marchese
technical direction:
Giovanni Brunetto
visual communication and web narration:
Andrea Mochi Sismondi e Diego Segatto
with:
Andrea Alessandro La Bozzetta
Eva Geatti
Alice Keller
Andrea Mochi Sismondi
Laura Pizzirani
Paola Villani
produced by:

Teatrino Clandestino ed Elena Di Gioia
supported by:



press release
gallery
multimedia
on stage
2.10.2015 ZOO Bologna | 18.05.2013 MaisonVentidue Bologna | 12-13.05.2013 Pim Off Milano | 08.05.2013 MACAO Milano | 15.11.2012 Raum Bologna | 20-23.09.2012. Festival Ipercorpo Forlì | 30.09.2011. Bartleby Bologna | 16.09.2011 Festival A Veglia Manciano (GR) | 16-24.06.2011. perAspera Festival Bologna | 05.05.2011. Angelo Mai Roma | 09.04.2011. Teatri Di Vita Bologna | 08.04.2011. Arena del Sole Bologna | 02.04.2011. Dipartimento di Musica e Spettacolo Bologna | 01.04.2011. Teatro Biagi D'Antona Castel Maggiore (BO) | 10.03.2011. Teatro delle Celebrazioni Bologna | 07.02.2011. Centro La Soffitta Bologna | 2011 BilBOlbul Festival Internazionale del Fumetto Bologna | 2011 Teatro Ridotto Bologna | 2011 Biografilm Festival Bologna | 2011 Galleria ART TO DESIGN Bologna
next dates