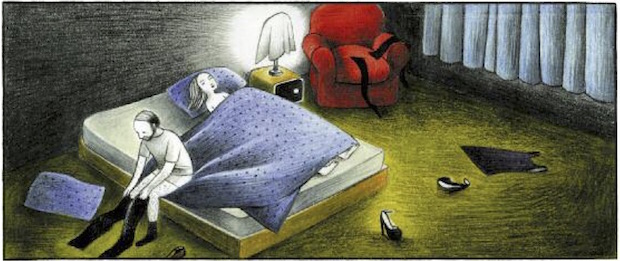 each Monday from 10 October to 21 November, h. 18.30-21.30
FIORENZA MENNI / Factual
theatre workshop
in collaboration with BilBOlBul Festival internazionale di fumetto
100€ / 70€
info@ateliersi.it, 329 0898 744
The training course for actors and playwrights that Fiorenza Menni offers is built around the desire to dare the combination of a (expressive) form that is not born for the theatre – in this case the boards of the graphic novel by Gabriella Giandelli, David Mazzucchelli and Davide Reviati (Coconino editions) – to the techniques, games and keys for interpretation. This approach will allow to practice in a lively and hard way the formalities necessary to build the scenic background. The formative route provides a constant confrontation with an accurate guide so that every participant can organize and get to know the work concerning stage presence and use of the voice and bring out their formal and aesthetic preferences.
Fiorenza Menni is an actress and theatre author. She is the President and Artistic Director of the cultural Association Ateliersi. Her production is defined by original dramaturgy and texts of philosophical and aesthetical thoughts. She is in charge of actor's training through workshops involving acting's contextual and sentimental precision, using specific elements of her own theatrical  and acting research. She founded Teatrino Clandestino and worked as an actress for Teatro delle Albe and Fanny & Alexander. She currently collaborates with artists and performers coming from different artistic and scientific disciplines, and works as an actor's trainer with Michèle Jean Bruyere (Sup de Sub. Formations pour Être à la liberté). In 2007 she was awarded the Eleonora Duse Award – Honorable Mention Best Actress.