curated by:
Fiorenza Menni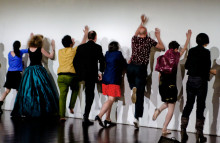 Images with courtesy of PimOFF theatre (Milano)
Alto workshop offers to participants a method of working that retraces and reclaims the process of disclosure and dramatic construction that Fiorenza Menni has developed with the actors of Civile project.
The main idea of Civile is to propose an unusual way of interpretation, suggesting a new way to establish a relationship with the audience, assuming that each actor may play the role of himself, a social animal making a hard choice. Such a choice implies various steps and narratively fascinating situations.
The workshop starts with an accurate dialogue, through which autobiographical suggestions will be collected in order to form the individual dramaturgical basis.
The work of contextualization and the collection of participants' materials will interweave with a few guidelines and the result will be the construction of personal dramaturgies and the creation of shared writing process that start from a specific desire to create strong empathic creative procedures.
gallery